06 August 2021
BBVA México acts as Agent Bank in the renovation of a sustainability-linked revolving credit line for Hospiten Mexico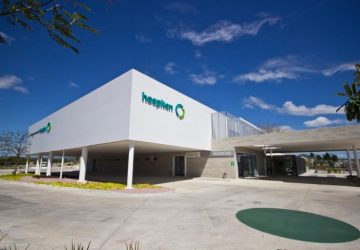 (Spanish version below)
BBVA México acted as Agent Bank for the renovation of a 5-million-dollar sustainability-linked revolving credit line for Hospiten Mexico. This line is part of a 35-million-dollar syndicated credit opened in 2018, the revolving tranche of which comes due this year.  It was renewed for an additional 3 years, and BBVA supplied 50% of the credit.
The renovation of the revolving credit line qualified as sustainable because the resources have been and will be applied to funding working capital linked to the application of COVID-19 detection testing in the hospitals and hotel chains in which Hospiten Mexico operates.
International health agencies say the application of COVID-19 testing is one of the most important tools for reducing and avoiding the spread of the virus, an activity that has become vitally important for society at large and for the reactivation of the global economy.
Grupo Hospiten was established in Tenerife, Spain, in 1969.  It provides medical services through an international healthcare network that extends to Spain, the Dominican Republic, Mexico, Jamaica and Panama, primarily in tourist zones, where it has 20 medical-hospital facilities and outpatient medical centers under the Clinic Assist brand. It also has medical-hospital centers in major cities like Santo Domingo, Cancún, Puerto Vallarta, Panama City, Santa Cruz de Tenerife and Madrid. Additionally, Hospiten México has more than 80 outpatient care facilities in hotel chains and 5 hospitals in Cancún, the Riviera Maya, San José del Cabo, Cabo San Lucas and Puerto Vallarta; providing emergency care, surgery, gynecology, obstetrics, internal medicine, and traumatology, among other services and medical-surgical specialties.
BBVA Mexico congratulates Hospiten México for the renovation of this line of credit, which will enable it to continue its valuable work applying COVID-19 detection tests. Thank you for selecting us as Agent Bank in this transaction.
---
BBVA México actuó como Banco Agente en la renovación de la línea de crédito revolvente sostenible para Hospiten México
BBVA México ha actuado como Banco Agente para la renovación de una línea revolvente sostenible por 5 millones de dólares para Hospiten México. Esta línea forma parte de un crédito sindicado aperturado en 2018 por 35 millones de dólares de los cuales el tramo revolvente vencía este año, mismo que se renovó por 3 años adicionales y donde BBVA participa con el 50%
La renovación de la línea revolvente alcanzó la etiqueta de sostenible ya que los recursos han sido y serán destinados al financiamiento de capital de trabajo vinculado a la aplicación de pruebas de detección de COVID-19, mismas que se han estado llevando a cabo en los hospitales y cadenas hoteleras en las que opera Hospiten México.
De acuerdo con la postura de las organizaciones internacionales, la aplicación de pruebas COVID-19 es una de las herramientas más importantes para reducir y anticipar la propagación del virus, actividad que se ha vuelto de vital importancia para la sociedad en general y la reactivación económica en todo el mundo.
Grupo Hospiten fue constituido en Tenerife, España, en 1969. Provee servicios médicos a través de una red internacional con presencia en España, Rep. Dominicana, México, Jamaica y Panamá, principalmente en zonas turísticas donde cuenta con 20 centros médico-hospitalarios y centros médicos ambulatorios bajo la marca Clinic Assist, aunque también dispone de centros médico-hospitalarios ubicados en núcleos urbanos tales como Santo Domingo, Cancún, Puerto Vallarta, Ciudad de Panamá, Santa Cruz de Tenerife y Madrid. Adicionalmente Hospiten México cuenta con más de 80 centros médicos ambulatorios ubicados en las cadenas hoteleras y 5 hospitales en Cancún, Riviera Maya, San José del Cabo, Cabo San Lucas y Puerto Vallarta; donde atienden urgencias, cirugías, ginecología, obstetricia, medicina interna, traumatología, entre otros servicios y especialidades médico-quirúrgicas.
BBVA México felicita a Hospiten México por la renovación de este crédito que le permitirá continuar con la labor que realiza en la aplicación de pruebas de detección COVID-19 y agradece el habernos seleccionado como Banco Agenten en esta operación.