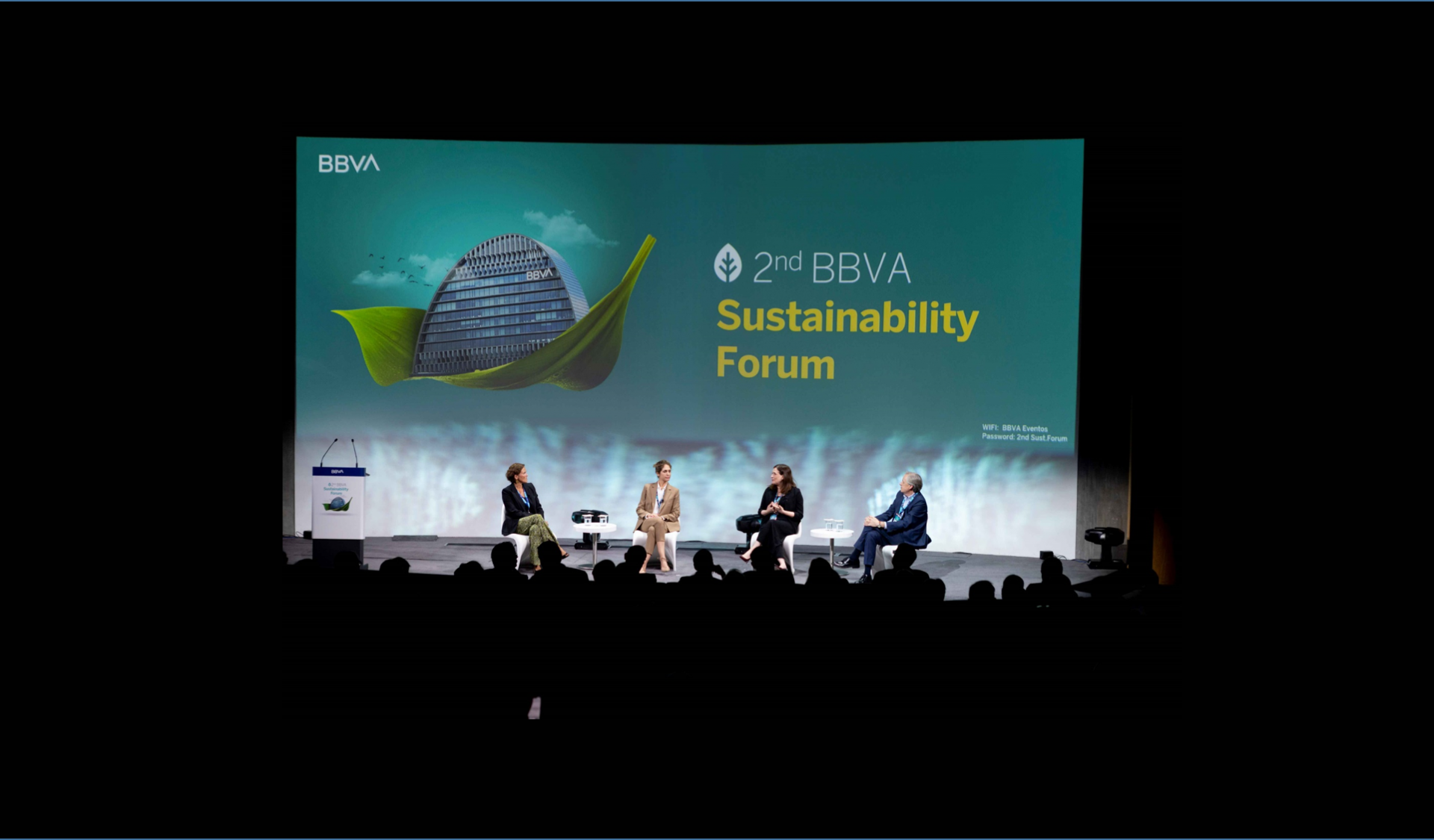 16 September 2022
"BBVA is here to assist all companies that want steadily to move toward the energy transition of their business models"
Luisa Gómez Bravo, Global Head of BBVA Corporate & Investment Banking, moderated the round table during the II BBVA Sustainability Forum: "How do large companies approach sustainability as a business opportunity?", in an interesting debate with participation of top management executives from Iberostar, ArcelorMittal and IAG.
---
The BBVA Sustainability Forum, held at Ciudad BBVA in Madrid, aims to promote sustainable development. This second edition was inaugurated by the Prime Minister of Spain, Pedro Sánchez Pérez-Castejón, and the Chairman of BBVA, Carlos Torres Vila. Teresa Ribera Rodríguez, minister for the Ecological Transition and the Demographic Challenge, was responsible for closing the event, which was also attended by Larry Fink, Chairman & CEO of BlackRock, as well as other representatives of the public administration and presidents or CEOs of large global companies, who met to discuss the fight against climate change and financing for sustainable growth.
In addition to being a global obligation from the point of view of responsible business activity, sustainability is a clear business opportunity. Luisa Gómez Bravo, Global Head of BBVA Corporate & Investment Banking moderated the panel "How do large companies approach sustainability as a business opportunity?" formed by representatives of several key sectors, such as Sabina Fluxá, Vice President & CEO of Iberostar Group, Carolina Martinoli, Chief People, Corporate Affairs & Sustainability Officer IAG, and José Manuel Arias, President of ArcelorMittal Spain.
Gómez Bravo stressed that today all companies face challenges related to sustainability that translate into business opportunities and generation of competitive advantages. "In the current context, sustainability is, like never before, a concern of business leaders in all industries and is at the center of the discourse of corporations. We're living in an era of change, where achieving the SDGs requires innovation but also a colossal investment. Given this challenge, it is clear that large companies play a crucial role in the sustainable transition, due to their major impact on society and their influence on value chains at a global level", and then pointed out that "in terms of sustainability, we must avoid the big slogans and make things tangible" as a way forward to achieve true transformation in current business models, toward a more responsible and sustainable economy.
Sabina Fluxá, Iberostar

"We invest in talent and technology for faster progress in terms of sustainability"
Sabina Fluxá, Iberostar, shared that the hotel chain's long-term vision is to promote a responsible tourism model: "as a family-owned business, we understand sustainability as a fully integrated and necessary part of our business model. We are committed to quality and added value in tourism development, which also strikes a balance between economic profitability and the impact we leave on society and the environment." Fluxá pointed out that each stakeholder demands a decisive commitment to sustainability. "We are aware of the challenge we face."
She gave some examples of the company's commitment: "Iberostar's Wave of Change movement was born to promote the health of the oceans, ecosystems and coastal communities where our hotels operate. Additionally, the Group's sustainability actions include pioneering tests with green hydrogen in a hotel in Europe; or being the first company internationally to create the 3Rs (reduce, reuse and recycle), a specific department for waste management within the hotels."
Carolina Martinoli, IAG

"Spain has a great opportunity for implementing sustainable aviation fuel"
Carolina Martinoli, from IAG, said that the aviation company sees sustainability as a clear opportunity for leading the industry's ecological transition. "We were the first global airline group to commit to net zero emissions by 2025 and the first European group to commit to using 10% sustainable aviation fuel by 2030."
Martinoli stressed that, in Spain specifically, the generation of social and economic value is enormous. "82% of tourists who visit Spain arrive by air. Our operators have a key role in generating this value. IAG's ambition is therefore to lead the transition toward a sustainable aviation model."
Jose Manuel Arias, ArcelorMittal

"The steel sector, a strategic pillar that contributes to the development of tomorrow's circular economy"
José Manuel Arias, from ArcelorMittal, explained that the company has been integrating sustainability as one of its strategic priorities for years. "Steel remains an essential material for the success of our world in the future. It is infinitely reusable and recyclable, and therefore helps develop tomorrow's circular economy."
In the case of ArcelorMittal, the impact on its business model is absolute. As Arias pointed out, "in addition to the intense and common scrutiny in terms of results, we are now under scrutiny in terms of governance and sustainability. Consequently, the company's commitment has become even stronger. And this is an unstoppable trend. Tomorrow's companies will be sustainable, or they won't survive."
The panel has allowed us to glimpse how sustainability is a clear strategic priority of corporations, which helps in the development of business models while maintaining or increasing their competitiveness. Luisa Gómez Bravo closed the session by stating that it is essential that large companies have sustainability at the center of their agenda, with conviction and realism: "sustainability is a competitive advantage for business. However, this means that it must be at the center of the agenda of large companies, with conviction and sincerity. To achieve the great challenges ahead, we must work together – companies, governments and financial institutions. BBVA is there to steadily assist all companies that put sustainability at the center of their strategy, and that want to move toward the energy transition of their business models."