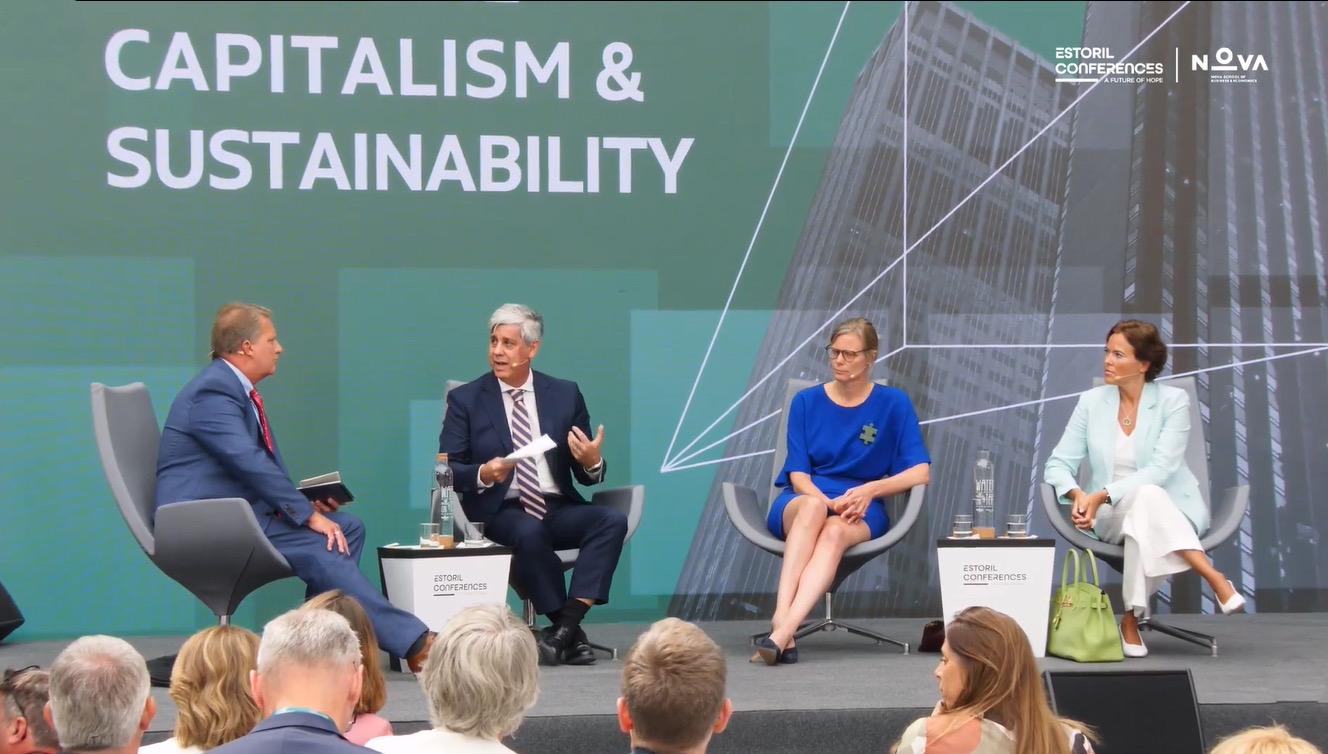 06 September 2022
Luisa Gómez Bravo participates in the event 'Estoril Conferences, A Future of Hope'
Luisa Gómez Bravo, Global Head of BBVA Corporate & Investment Banking, participated in the 'Financial Capitalism & Sustainability' panel at the seventh edition of the event 'Estoril Conferences, A Future of Hope', organized by Nova School of Business & Economics, which aims to discuss the main global challenges facing the world.
---
The event 'Estoril Conferences, A Future of Hope', which favors an open dialogue between influential people from the social, financial, and political spheres, with students from various business schools in several countries, is positioned as a platform that seeks to promote actionable solutions that enable a positive change in the world in which we live. 
During her speech on the 'Financial Capitalism & Sustainability' panel, Luisa Gómez Bravo pointed out that banks play a vital role in the transition to a sustainable global economy, mainly because of their ability to influence capital mobilization, the promotion of private investment and the management of the portfolio of indirect emissions. The Global Head of BBVA Corporate & Investment Banking (BBVA CIB) pointed out that for the bank, it is vital to help and engage with customers in their transition to a more sustainable future through developing products and tools, financial advice, and education and knowledge.
As Luisa Gómez Bravo pointed out during the meeting, "the world is going through unprecedented change, and the only way to achieve carbon neutrality by 2050 is through an extraordinary amount of investment. Funds must be made available to achieve this neutrality."
She also stressed that sustainability is a strategic priority for BBVA, an excellent opportunity for customers and the entity, which the bank articulates around two main lines: the fight for climate action and inclusive growth. For this reason, Gómez Bravo stressed that BBVA is working on adopting measures to manage the bank's energy footprint, particularly in emerging markets, and exporting knowledge and experience from more mature economies.
Irene Heemskerk, Head of the European Central Bank's Climate Change Center, and Mário Centeno, Governor of the Bank of Portugal, also participated in the panel.
BBVA, a benchmark in sustainable finance
Demonstrating its responsibility in the fight against climate change, BBVA approved in 2018 its 2025 Commitment, whereby it committed to mobilize a total of 100 billion in green finance, sustainable infrastructure, social entrepreneurship, and financial inclusion. Three years later, and after having managed to reach the figure of 59 billion euros, the bank raised its target to 200 billion euros. At the end of June 2022, BBVA had already reached around 112,000 million euros.